Lakeland Pools & Spas Owners
Tracey Cochran-Shauger
Owner
Tracey has been part of Lakeland Pools & Spas for 30 years now. Tracey is married to Moose who works here delivering spas on Saturdays, and has a daughter Emily who helps us out in the store part-time testing water, stocking shelves and carrying boxes out to our customers' car. Tracey's son Harrison passed away on March 26, 2013.
---
Cindy Kannon
Owner
Believe it or not, Cindy now has 42 years in the business. Cindy is married to Michael and has two sons, Jason and Kyle.
---
Debbie Moran
Owner
This year Debbie will be here for 30 years. Debbie is married to Bob and has a daughter Nicole who used to be here with us during high school and college, but has since married and moved on to teaching in Delaware.
---
Lakeland Pools & Spas Staff
Chuck Babcock
This is Chucks 7th year with us here. He will be around stocking shelves, testing water, unloading trucks, taking care of our flowers, and doing just about anything we ask of him! When he is not here with us you can find him snowboarding in the winter, playing volleyball, paintball, bowling and skydiving on occasion.
---
Delivery Crew: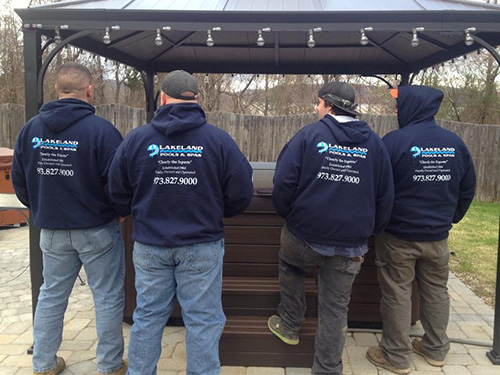 Moose Shauger, Andy Shepherd, Kyle VanTassel, Mike Van Tassel